Area Airports

Tampa International Airport

5503 West Spruce Street

Tampa, Florida 33607

813-870-8700

www.tampaairport.com

St. Petersburg-Clearwater International Airport
14700 Terminal Boulevard
Clearwater, FL 33762
727-453-7850
www.fly2pie.com
​
​
Travel Information Service
By dialing 511, Tampa Bay travelers in Hillsborough, Pinellas, Pasco, Polk, Manatee, Sarasota and Hernando counties can access free, around-the-clock traffic and road condition updates on select road segments. Travelers are encouraged to seek information before they are on the road. Travelers can access the same information at 
www.fl511.com
.
---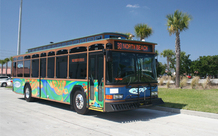 ​
Suncoast Beach Trolley
The Suncoast Beach Trolley serves and connects all of the cities along the Tampa Bay Beaches with connecting service available inland to St. Petersburg and Clearwater. The cities that are not served are Kenneth City, Belleair Beach and Belleair Shore. Look for special trolley bus stop signs located frequently along the route. In addition to the services along Gulf Boulevard, connector routes run between the coast and downtown St. Petersburg.
For real-time bus & trolley information 
click here
FARES
EXACT CHANGE REQUIRED for each passenger. Driver Cannot Make Change. Fare is $2.25 per ride or you can purchase a GO Card which gives you unlimited trips on any PSTA vehicle.
Daily GO Card - $5.00
Weekly GO Card - $25.00
Monthly GO Card - $70.00
Reduced Fare passes are also available for Seniors 65 or older and Disabled Passengers.
Hours of Operation
The Suncoast Beach Trolley runs every 20 to 30 minutes from 5:05 a.m. to 10:10 p.m., Monday through Sunday, including holidays, with service until midnight on Friday and Saturday.
PSTA Information For more information on Trolley and Bus services, GO Cards, Trolley Maps and Schedules visit www.psta.net or call the PSTA InfoLine (727) 530-9911, or by TDD only (727) 533-4411.