Thank you everyone for participating. We'll see you again next year!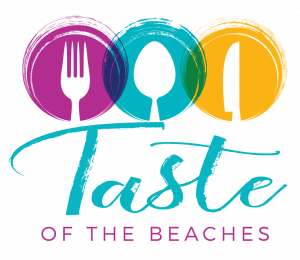 Saturday, October 7th - Sunday, October 15th, 2023
Here's how it works:
Step 1: Pick the tastes you would like to try from the restaurants below
Step 2: Purchase your tickets (1 $10 Ticket = 1 Taste)
Step 3: Visit the restaurants from October 7th - 15th
Step 4: Turn in your ticket at the restaurant to receive your Taste
Please check restaurant hours BEFORE visiting location!
2023 Participating Restaurants and Tastes
82 Degrees at The Saint Hotel
Poke tuna tacos and Honey razz lemonade
Sushi grade tuna, avocado, seaweed salad, wasabi aioli and pine sauce served on crispy wonton shells, served with rivigin, muddled razz and strawberries with fresh lemonade and Cointreau
Broke N Bored Grill
Thai Bird Grilled Shrimp over Blistered Shishito Peppers
Drizzled with Ginger & Yuzu Ponzu Reduction
Buoys Waterfront Bar & Grill
Spicy Tuna from our Tuna Trio paired with Char Sui glazed Pork Belly and homemade coconut cheesecake
Cabana's Coastal Grill
Coconut Shrimp appetizer
Coconut battered shrimp fried golden brown, served with key lime mustard
Caddy's Indian Shores
2 Mahi Tacos
Lightly blackened mahi, lettuce, pico de gallo, cheese and chipotle sauce
Caddy's John's Pass
Calamari
Flash fried calamari served with a side of sweet thai chili sauce
Caddy's Madeira Beach
2 Sunshine Shrimp Tacos
Grilled shrimp, lettuce, tomato, gulfcoast salsa, cheese, citrus aioli sauce
Caddy's Treasure Island
Grouper Nuggets
Lightly fried grouper served with dill tartar sauce
Cambria - Prime Waters
Short Rib Sliders
With homemade horseradish aioli, caramelized onion, toasted challah bun and hand cut fries
Chill Restaurant & Bar
Choice of two:
(1) Wedge Salad (2) Lobster Ravioli (3) Muffin Meatloaf
Clean Eatz Belleair
Queso steak melt or Buffalo chicken wrap
With your choice of side, and a protein smoothie *Vegan and Gluten Free options available*
Coco's Crush Bar
Orange Crush & Firecracker Shrimp
Gulf shrimp sauteed in Old Bay and Coco's Boom Boom sauce served with Coco's Original Orange Crush
Crabby Bill's St. Pete Beach
Crabby's on the Pass
DJ's Clam Shack
Clam Shack Combo
Cup of New England Clam Chowder with two Conch Fritters, two Fried Shrimp and two Fried Mahi bites with dipping sauces.
Evy's Terrace & Bistro
Your choice of any Flatbread
Friendly Fisherman
A cup of New England Clam Chowder and a scoop of smoked fish spread
Grapes Wine Bar
House Special
Charcuterie board and glass of House wine or House beer
Grillin N Chillin
Carolina Sandwich
Tender Pulled Pork topped with Cole Slaw & BBQ Sauce
Guilty Sea Sports Pub
Texas Twinkies
Jalapenos stuffed with a blend of cheeses and brisket, wrapped in bacon and grilled, topped with sweet bbq
Hungry Howie's Pizza
Bread Trio Special
Howie Bread, Three Cheese Howie Bread and Cinnamon Bread
Jake's Coastal Cantina
2 Home-made Beef Empanadas
Served with spicy mayo and Pico de Gallo
JD's Restaurant & Lounge
Buffalo Shrimp and Fries Appetizer
Kokomo's Bar & Grill
Pineapple & Tasso Ham Margherita Pizza and Island Kicker cocktail
Leverocks
A cup of New England Clam Chowder and a scoop of smoked fish spread
Mad Beach Cantina
Carnitas Tacos
Three carnitas tacos served with chips and salsa
Mad Beach Cafe
1/2 Breakfast Sandwich, Smoothie 1/2 Size and Small Sweet Ice
Mastry's Brewing Co.
House made chicken Masala served over a bed of rice with a cucumber crema. Paired along with a choice of two Mastry's Brewing Co. 4oz craft brews.
Original Crabby Bill's
Pipo N Betty's Bakery
Iced or Hot Medium Americano and a Pipo's Roll
Rick's Reef
Lobster Fries with Mac n Cheese
Rumba Island Bar & Grill
One 10 oz. domestic draft beer and jerk smoked chicken wings char grilled with choice of cranberry jerk tropical BBQ sauce
RumFish Grill
Beer Flight 4 (2oz) Craft Beer Selections, 3oz Everything Crusted Ahi Tuna, Black rice, pineapple salsa, ginger soy reduction, wasabi and pickled ginger
Sculley's Seafood Restaurant
Shrimp or Chicken Po' Boy
Golden fried shrimp or chicken, cajun remoulade, lettuce and tomato on an amarosa roll
Seadog Brewing Company
Mahi Tacos and a Flight of Beer
Fresh Mahi blackened, with savoy cabbage, avocado salsa, pickled jalapenos and poblano crema. Served with chips and salsa.
Seabreeze Island Grill
2 Homemade Beef Empanadas
Seasoned Cuban style beef stuffed in a flakey pastry dough and fried crispy
Seaweed Grill
Choice of hand crafted martini or cocktail and crispy cauliflower
Sloppy Joe's
Surf 'n Turf Burger
Fresh lobster, 7 ounce angus burger, grilled shrimp, Swiss cheese, lettuce, tomato, onion and choice of side
Slyce Pizza Bar IRB
Indian Rocks Beach Starter
Noca Boozy Iced Tea and 4 Dry Rub Wings
Slyce Pizza Bar Madeira Beach
Madeira Beach Starter
Glass of Califuria Rosé and Bruschetta
Slyce Pizza Bar St. Pete Beach
St. Pete Beach Starter
Glass of Tormaresca Wine & Meatball Appetizer
Society Table
Pink Palace Daze
Two 4 oz. beers, Green Bench "Pink Palace Daze" hazy IPA and two goat cheese fritters
Taco Bus
2 Firecracker Shrimp Tacos and a Margarita of your choice
The Deck Bar & Grill
Irish eggrolls
Deep fried with swiss, sauerkraut, corn beef served with thousand island dressing
The Helm
Lobster Corn Fritters
Served with tarragon aioli
The Island Grille & Raw Bar
The Reef
Baja Shrimp Taco and homemade Key Lime Pie
Toasted Monkey
Asian Lettuce Wraps & choice of a Tuna Taco OR a Mahi Taco
Twisted Tiki
Fried Sticky Ribs over Rice
Vino Simpatico
Pick 3 Charcuterie Board and a glass of wine
Watercolour Grillhouse at Marriott Sand Key
Deviled Crabcake & Blueberry Lemon Drop